Also, notice how the same photograph resembles an eyeball.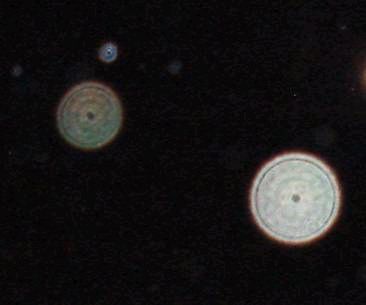 The photo at top is the Spirit of truth looking directly at the camera man and bearing witness to him taking the photograph. The Spirit of truth is also known as the Spirit of God and the Holy Spirit.
1 John 5:6. And it is the Spirit who bears witness, because the Spirit is truth.
The Holy Spirit also bears witness to our consciousness.
Romans 9:1. I tell the truth in Christ, I am not lying, my conscience also bearing me witness in the Holy Spirit.
It is through the Spirit that the Father and Jesus hear our cries.
Romans 8:26. Likewise the Spirit also helps in our weaknesses. For we do not know what we should pray for as we ought, but the Spirit Himself makes intercession for us with groaning's which cannot be uttered.
God demonstrates His presence here on earth through the eyes of Lord.
2 Chronicles 16:9. For the eyes of the Lord run to and fro throughout the whole earth, to show Himself strong on behalf of
those
whose heart is loyal to Him.
Psalm 34:15. The eyes of the LORD
are
on the righteous, And His ears
are open
to their cry.
Psalm 33:18-19. Behold, the eye of the LORD
is
on those who fear Him, On those who hope in His mercy, To deliver their soul from death,
The Holy Spirit glorifies Christ
The Spirit of truth bears witness to the indwelt Spirit of Christ in the Christian.
The Spirit of truth glorifies Christ by bearing witness that we belong to Christ and declaring this to the Apostles who sit on the thrones of judgment so that we are not judged and mat go onto the Father.
Jesus said to the Apostles -
John 16:13. However, when He, the Spirit of truth, has come, He will guide you into all truth; for He will not speak on His own
authority
, but whatever He hears He will speak, and He will tell you things to come. He will glorify Me, for He will take of Mine and declare
it
to you. All things that the Father has are Mine. Therefore I said that He will take of Mine and declare
it
to you.
This is how Christ builds His kingdom through the Holy Spirit here on earth.
Romans 8:15-16. For you did not receive the spirit of bondage again to fear but you received the Spirit of adoption by whom we cry out, "Abba, Father," The Spirit Himself bears witness with our spirit that we are children of God.