Cover Design and Layout
How to Design a Book in Word and Convert to PDF

Web Site
where article was found.
On special request, I just posted a page about
indexing a book
in Word.
Let me just start by saying that if being a self publisher doesn't mean you have to do all the work yourself just because I do. Freelance professionals are available for all phases of book production, and can save you the expense of doing everything twice. An experienced cover designer can produce an original cover for $200 or less, as long as you're willing to accept their basic design scheme. Professional page compositors are far more expensive, costing anywhere from hundreds to thousands of dollars for an average size book. A reasonable hourly rate for a page compositor/book designer is in the $30-$40/hr range. Don't go with somebody who charges $5-$10 per page, that's just a formula for high costs. After the initial book design is created, the text is poured in and an experienced operator will only need a couple of minutes per page. A good page compositor will pick a suitable font, balance the pages, and make sure that the headers and footers are attractive and not crowded.


Book Cover Design

With the rise of online bookstores, it's more important for
print on demand books
(most of which will never see the inside of a bricks-and-mortar store) to have a cover that shows up well as a thumbnail on a web page than to be a visual knock-out from across the room. For non-fiction books, the title should be easy to read, and any cover illustration should have something to do with the book topic. I don't know what makes fiction sell, though offering the first book of a series as free eBook helps a lot. If you look at the book covers of successful self publishers on Amazon, they basically imitate trade books in the genre. So romance books show a lot of skin on the cover, science fiction books go with lots of color, non-fiction books usually have a photograph of the subject worked in. The real secret to designing your own books is not overreach. Simple and clean beats busy and complicated every time. For book covers, I use Microsoft PowerPoint, also part of the basic Microsoft Office package with the same PDF capability.
Let's look at my recent laptop book layout in PowerPoint for an example.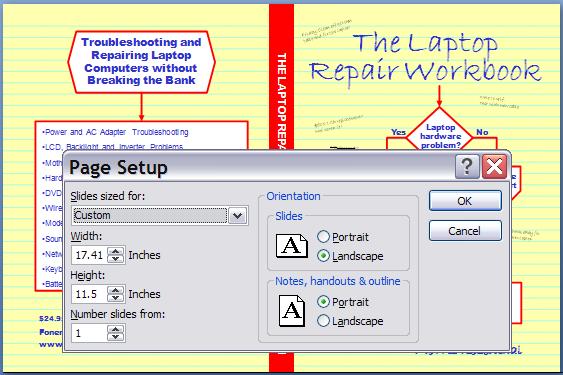 The cut size, the final dimensions of the printed book interior, is 8.25" x 11.0". Cover printers want a quarter inch bleed on all sides, so I set the height of the cover at 11.5". The trickier dimension is the width, since you have to figure out the thickness of the book and account for the spine. So the width of the cover, which is printed on a single heavy piece of coated stock and wrapped around the book interior, came out 17.41". That was 8.25" for the front and back covers for 16.5", plus a quarter inch bleed for each edge, or 0.25" x 2 = 0.5", which gets up up to 17.0". The remaining 0.41" was the thickness of the spine, which I calculated using the Lightning Source calculator. Note that you don't have to be dead perfect because in practice, the bleed gives the binder extra room to play with. The next couple images are show the formatting for the spine, since that's the pare that seems to give people the most trouble.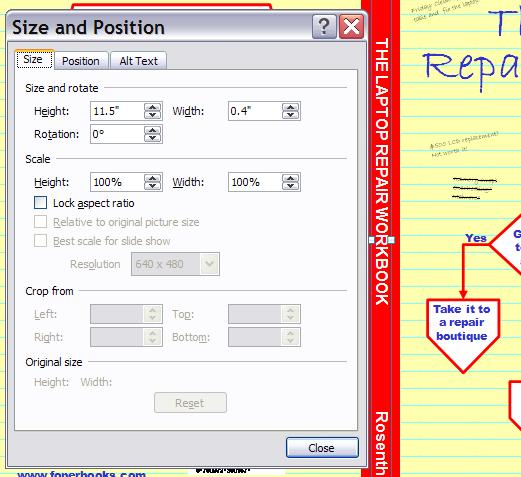 You bring up the "Size and Position" menu for a text box by right clicking on the selection box, the thin line in the image above that surrounds the spine title. Note that I made the size of the text box 0.4 inches wide and I didn't fill it completely with the spine text, in terms of height. That's because print on demand printers don't do an exact job placing covers on books, they usually only guaranty getting it within an eighth of an inch (0.125") but in practice they're much better. Still, I prefer to keep the text smaller than the actual spine and to extend the background color, a different box that I laid down first, well beyond the edges of the spine. It allows me to use the same cover file for both Lightning Source and CreateSpace, who use different paper thicknesses. Most publishers prefer to make the spine text the exact size of the spine, which may help them get the alignment right.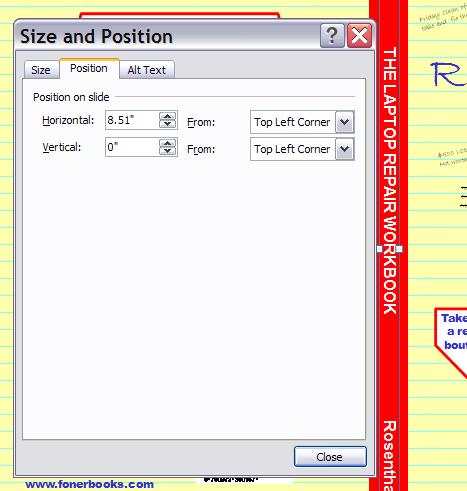 In the final image of the sequence, I'm showing how PowerPoint allows you to position the text box for the spine text in the right place by doing math rather than mastering the mouse and squinting at a ruler. We have a cover that with bleed, is 17.41" wide and we are trying to position a 0.4" text box in the center, within a hundredth of an inch. The "Position" menu shown above allows you to tell PowerPoint how far you want the spine text box to be from various starting points, I use the top left corner of the cover. The center line of spine text needs to be at 17.41" divided by 2, or 8.705", which I rounded up to 8.71". For the center of the text box to be at 8.71" when we know the text box is 0.4" wide, we need subtract half the width of the spine text box from the center line, or 8.71" - 0.2", which gives us 8.51" And that's why a position the spine text box on this cover at 8.51" from the left edge.
The rest is just about developing enough familiarity with PowerPoint to get comfortable dropping text boxed and images all over the place, fill them with background colors, embed your ISBN, etc. It's a lot easier to learn than a real graphics program, but it's also something you're unlikely to do that often and there are some low cost cover designers on the web who do a good job at a price that would make your time learning how to design a cover worth around $2/hour. I'm serious about that. But after you do it once, you'll have a ready to go PowerPoint template for books of the same size, you'll just have to tweak the width and move the spine for different page counts.
A quick note on designing eBook covers, which is much easier since there's no spine or back cover. I've been doing my eBook covers in Microsoft Paint and I have had Kindle eBooks in the top 1,000 on Amazon. The key is making the title readable, but I've only been publishing nonfiction on Kindle. If you're publishing fiction, the rules above about showing a lot of skin or otherwise going along with the crowd apply.

Book Interior Design

Designing a book interior doesn't scare most people as much as designing covers, but if you want positive word-of-mouth, getting the interior right is far more important than the cover. Don't make the book difficult to read in an attempt to make it stand out. There's no shame in looking at the design of books that you like and imitating them. This is what professional book designers have been doing since the beginning of time.
Page layout doesn't require learning expensive new software packages or complicated freeware work-arounds. If you're going to do page layout and book design for a living, by all means invest in Adobe InDesign or QuarkXPress. But for anyone doing their first book, stick with Microsoft Word or the word processor of your choice. I created the book interior PDF for the last three books I published by using the "Save as PDF" option in Microsoft Word. Those files worked fine for both Ingram Lightning Source and Amazon CreateSpace, and there's no reason to use a different POD printer than those two. The "Save as PDF" function in Microsoft Office 2007 was a free add-on that you download from Microsoft, if 2010 it's just built in.
The last book I produced straight out of Word included complicated flowcharts and symbols on every page, so and I learned that Word can place graphics on a page to the 1/100th of an inch. Yes, Quark can place graphic to 1/1,000 of an inch, but you don't need that. The
indexing and table of contents generation in Word
is superior to most desktop publishing packages, and the headers and footers combined with section breaks allow you to format the whole book in a single file with different chapter headers. Just make sure to embed TrueType fonts when you save as PDF for the print-ready file.
For example, to produce a PDF interior for a 6x9 paperback with an interior layout of - 3/4 inch inside margin, a one inch outside margin, one inch top and bottom margins centered on an 8.5x11 page in Word, just use the following settings in page setup (Note: Lightning Source no longer requires centering on the page, but it's still a good exercise in working with Word:-)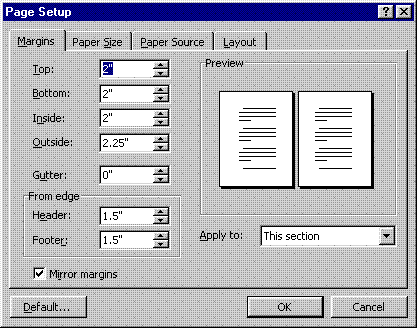 If you don't have Microsoft Word or freeware expertise and don't want to buy a desktop publishing package, your local copy shop probably has a few well-equipped PCs which they rent by the hour. My local Kinkos has both PCs and Macs, not to mention plenty of Postscript printers, which are important for checking your PDF output if you go that route. Whether the rental is $10/hour or $20, you'll be surprised to find how quickly the whole job goes if you come in knowing how you want the final product to look. It's also a great investment in time for anybody with a serious desire to work in the publishing business, even if you don't plan to spend your career typesetting books and designing covers. Once you've done it yourself, you'll have the vocabulary and the reference frame to discuss work with freelancers and to quickly spot the frauds.
I've been having fun with some other Windows hacks -and I mean hacks - lately, including
drawing graphs in Paint
. Good enough for blogs and papers:-)